We have 40+ patents worldwide – we are SERIOUS!!
An energy absorbing and transmitting material comprising a framework of interconnected units comprising at least one unit having a base and a protrusion or cone extending from the base along an axis, and at least one connecting member or rod that connects the unit to at least one adjacent unit, the connecting members extending substantially perpendicular to the axis of the unit from the base, where the framework is comprised of a single elastic material throughout, or configured so that when the framework is perturbed by tilting the unit towards the adjacent unit, the adjacent unit is tilted towards the unit.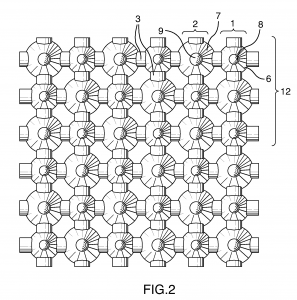 Get a SP1KE ™ mat and save your back and feet!